Clemson Robot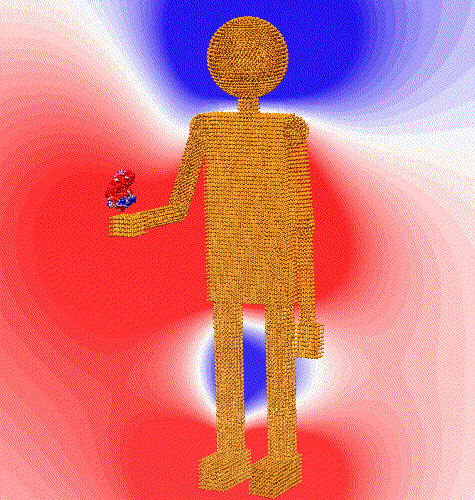 Clemson Robot created by Brandon Campbell, with Protein Nano-Object Integrator package developed by Nick Smith. The potential distribution was calculated with parallelized DelPhi developed by Chuan Li and the movie was created by Lin Li. Webpage design by Taylor Kimmett.
Atomic-style robot holding in its hand barnase-barstar complex. Potential map calculated with DelPhi.
The research in the lab focuses on computational modeling of biological macromolecules and their assemblages and predicting biophysical quantities associated with them. The main focus of the lab is the development and maintenance of the popular software package DelPhi, which calculates electrostatic potential and energies of systems comprised of biological macromolecules. In addition, we are interested in modeling disease-causing missense mutations, pKa's of amino acids and nucleic groups and pH-dependence of stability and binding. In parallel with in silico modeling, the lab actively collaborates with experimetalists to better understand molecular mechanisms of biological reactions and interactions. The combination of the methods of Computational Biophysics and Bioinformatics with experimental results is an essential approach utilized in our research.
Visit this page to see a better video demonstrating the Clemson Robot and DelPhi's capabilities.